*cue the Mariah, Bublé and Sinatra tunes* IT'S BLOODY CHRISTMAS TIME!!! Obviously here at Radelaide we think Christmas is the most wonderful time of the year because duh... presents, food, booze, family, friends, and of course, carols. It's about the time of year when everyone feels super happy; people look forward to having time off work and celebrating the year that's passed.
Let's be honest, Christmas is a stressful time for most, as the shops get hectic from now until Boxing Day. If you're keen to avoid lines, parking fines, and people running over your foot with a trolley, follow our fun and simple guide to Christmas gifts and where to buy them this year in Rads.
I'M DREAMING OF A CENTRAL MARKET CHRISTMAS
It may be Christmas time but you'll still be saying TGIF at the Adelaide Central Market! Bring on Festive Fridays at the Market on the 1st, 8th and 15th of December with an abundance of festivities; we're talking hams being carved, turkeys being basted and Market experts offering their top tips this silly season. Taste the perfect pudding, smelly cheeses and gourmet delights, while checking out the pop-up bar at the Tipsy Gypsy Caravan; they'll be serving up the Market's own signature Christmas cocktails alongside local boutique wines and craft beers.
Indulge in favourites like Marino's pochetta panini, freshly shucked oysters from Samtass, Market Bread Bar crepes or Comida's famous paella. Add on some live entertainment by Lou Blackwell Quartet and Bird Lives and you've got yourself a magical Christmas at the Adelaide Central Markets! Festive Fridays are hosted in Gouger St dining area from 5:30pm on 1, 8 & 15 December 2017. Check out the Market website for more info.
LAST CHRISTMAS I GAVE YOU MA-SSAGE
I don't know about you, but my stress levels were higher than ever this year; so I believe it's time for some R&R. Who's up for a Heavenly Massage or Blissful Pedicure? Thanks to our friends at Cocoon Spa and Wellness, you and your loved ones can have a positive end to 2017 with their amazing gift vouchers. Why not try the Cocooned Pure Indulgence? It's 3 hours full of rejuvenating full body goodness, hydrating facials and even a scalp treatment – throw in a deluxe mani or pedi to finish off and I can promise that'll be the best 3 hours of your life (way better than that massage using baby oil that your S.O. gave you that time).
Does that sound a bit OTT? For the big strong males in your life, Cocoon Spa also offers Muscle Recovery. Help your man recharge those tired muscles with aromatic spa time and 60 mins of pure massage. If you two are into something a little sweeter, try the Sweet Sensations ~literally sweet~ with a chocolate-infused bath, body scrub and body wrap, followed by a full body massage. Talk about a sweet deal. If you're after a low maintenance voucher for a friend or fam member, go for the Blissful Pedicure; get those tootsies exfoliated, soaked and scrubbed to leave them feeling like their walking on air. Head to the Cocoon Spa website for more info on these deals.
JINGLE BELLS AND WEDDING BELLS?
Something for the Brides… this year Es+Elle have created a wonderfully hand-picked, personalised and modern wedding planner that's a fantastic gift for your friend (or yourself) who has just become a bride-to-be. This bridal bible helps you bring your dream wedding to life; overflowing with information on the process of wedding planning leading right up to your big day.
Create the perfect gift for your friends or family members who just got engaged by pairing the bridal bible with a personalised Christmas decoration with a special message of your own! A beautiful keepsake for your love ones that's sure to make a memorable, thoughtful gift that will be hung on the tree for years to come. Head to Es+Elle's website to place your order in time for Christmas.
MAKE LIKE FROSTY AND GET ON THE ROOF!
Give the gift of adrenaline, adventure, and awesomeness this Christmas with the Commonwealth Bank RoofClimb. Finding the perfect gift for everyone can be an impossible task at best, so give your loved ones something for Christmas they'll never forget. If you know someone who is adventurous and loves the smell of adrenaline in the morning, then the RoofClimb is beyond perfect for them. They'll get incredible views of Adelaide Oval, the city, and the Riverbank Precinct as well as an exhilarating climb experience while leaning 50m above the southern goal stand! Grab them a gift card and let them choose when they'll climb – easy as that.
Check out all the details here.
ROCKIN' AROUND THE CHRISTMAS GIFT MARKET
Where the hell do we go to buy gifts that aren't in a department store or the city? Why not head to Plant 4 Bowden Christmas Gift Markets? The amazing folks at Plant 4 are holding a very special market on Sunday, December 17 from 10am-4pm, full of super cool gifts from local Adelaide makers who spin, weave, grow, create and construct amazing handmade gifts… talk about a unique present! Perfect for boys, girls, Mums, Dads, and basically any of your loved ones (especially yourself).
The kids zone will also be decked out, while the Plant 4 Bar will be in full swing for the mature kids, serving up local craft beer, wine, cider and cocktails to sip on. It's sure to come quickly so make sure you take note and head to Bowden on Sunday, December 17. All markets are free entry and with ample parking around the area, this is definitely the way to actually enjoy Christmas shopping. For more info on the market click here.
SANTA BABY, LEAVE SOME CHOCOLATES UNDER THE TREE
For a simple yet thoughtful present this year why not try something from Just Bliss Chocolates. Their wonderfully handmade chocolate blocks, crafted shapes and decadent truffles will have any chocolate lover swooning. It's a gift perfect for any Kris Kringle present, something thoughtful for the 'rents, or even for that friend who is always the hardest to buy for.
Want to combine a love of chocolate with a love of Gin? (UM YES) The Gin & Tonic Truffle 16 piece box is a great selection of chocolate truffles, hand painted and filled with lime pate de fruit (jelly) and chocolate ganache, splashed with local SA gin, only $41 a box.

For a more unique gift, ask your partner if they wanna spoon... then show them the Chocolate Spoons you got them. Hand painted with Christmas colours, it's perfect to serve with dessert or stir in your coffee - $2.50 each or buy 6 for $15. You can also buy cute little choc tiles, which can be personalised with raspberry, freckles or pistachio topping starting from 5 bucks. For more info, head to Just Bliss located in Gawler Place or check out their website for more gift ideas here.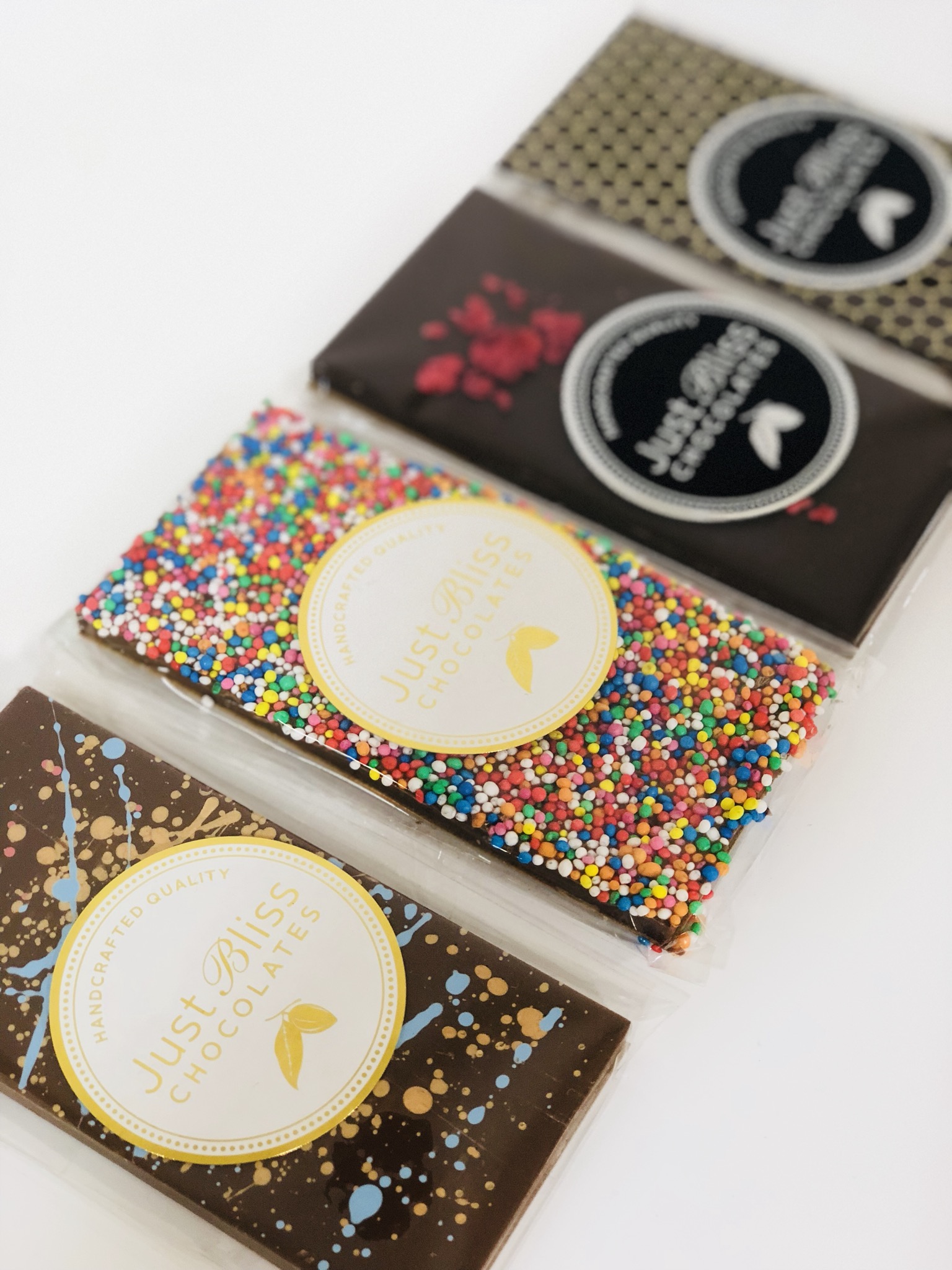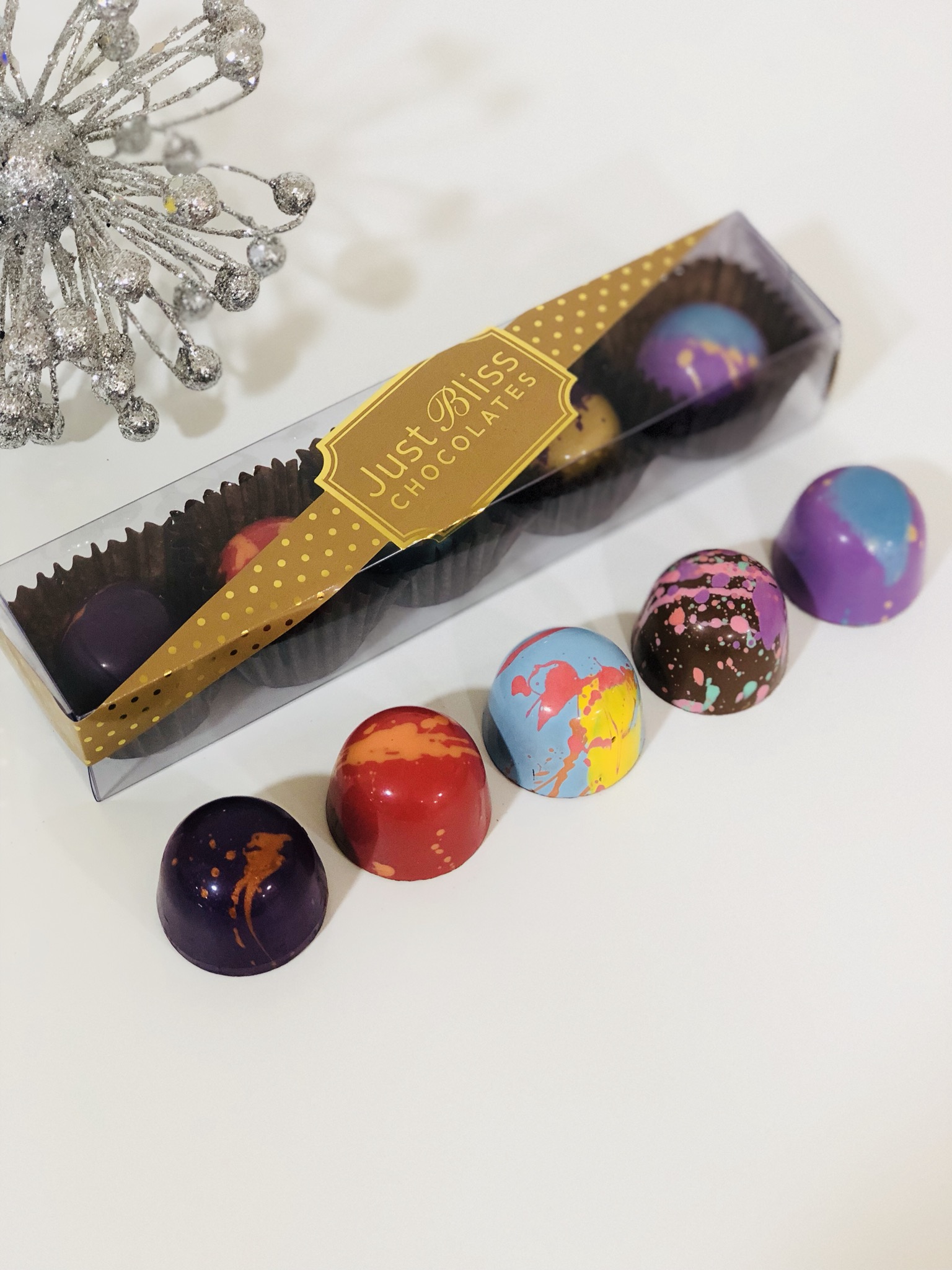 We hope our annual Christmas guide has given you some food for thought (literally) for what to buy your loved ones this year! It can be a haze of gift ideas being thrown into your vision over the next month of festivities, so we created this guide to help you keep a local, unique and fun way of going about your Christmas shopping. Have a very Merry Christmas from all of us here at This is Radelaide!
All images provided.
Header image Just Bliss Chocolates.