The annual Santos Tour Down Under officially begins this coming Saturday the 14th. To commemorate the occasion, the City of Unley will host the Unley Gourmet Gala, an annual street party (currently in its 17th year!) - that is the longest running event held in conjunction with the Tour.
The Gala celebrates the Hostworks Stage 1 Start of the Tour, which will begin from Unley the following day, at 10:30AM. There's plenty of activities to see and do, but admittedly, your biggest problem will be structuring your day to fit them all in.
Firstly, you'll want to check out the Wheelie Good Garden (we see what they did there), the bike wheel arch and surrounding gardens designed by celebrity gardener Sophie Thomson.

As the Gala is held on King William Street, retailers and restaurants will showcase their finest gourmet produce, beverages, fashion, beauty, and so on. The gala will include entertainment both for adults and kids, as well as live music performances, laneway chill zones, cooking demonstrations (with Internet chef Bridget Davis), and fashion parades.

Retailers include: Chandelle Galerie, Coltish, Designer Exchange, Extra Newsagency, Flourish Gift and Home, Limited, More Over Menswear, My Style Bar, Robbie's Chop Shop, Santos Tour Down Under, Silk Laser Clinic, Sonder Hair, 50 Swiss Wellness, The Ark and Unley Road Association.
To name a few popular restaurant hot-spots with Gala plates available: Antica Pizzeria E Cucina (wood oven pizza and polenta chips), Assaggio Ristorante (catavalle con osso bucco ragu), The Unley (salt and pepper prawns and summer salad), Nutrition Republic (earth smoothie bowl), Ottoman Trading Co (Turkish Delight tasting box) and more.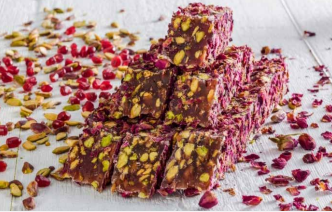 In terms of entertainment, there are two must-see sets:
The Gala Grove: featuring Coconut Kids, Conchillia, Louis Donnarumma, Atlantic Street Band, Local Revolution, Alyssa Spilsbury, DJ Tim Bos and DJ Fillip with an F.
World Sounds: featuring Zhao Liangm Songambele, Gospel Group, Burundi Men's Drum Club, Sufi Soul, World Drum Group & Dance & Acrobat, Bortier Okoe, Moonta Street, Zaffit Wedding Part Drum & Dance, Dada Ni & Damushi Ensemble and Afro Oz Musica.
There will be three fashion parades on the day, at 6:30, 7:30 and 8:30PM respectively. The parades will spotlight the designs of brands such as Anastasia Bridal Couture, Cable Melbourne, Coltish, Denimn + Cloth, Elizabeth V, Liza Emanuele and Wild Child.
Head along to visit My Style Bar, who not only are extending their workspace out into the streets, but will also be providing the hair and makeup looks for the fashion parades.
Prefer to stay in a shaded area, a drink in hand, with your kids occupied? The Gala is hosting free children's activities between 4 to 8PM, including bike track lessons and maintenance, making your own neon bike jersey, face painting and a neon silent disco.
Even if the Tour isn't really something you're interested in, the Gala is the perfect opportunity to visit Adelaide's well-loved King William Street and experience some of the excellent fashion, food, and entertainment.
When: Monday, January 16th, 4-10PM
Where: King William Road, Unley
Program: 2017 Unley Gourmet Gala.
Facebook event: Unley Gourmet Gala
City of Unley Events Facebook.
Photos via Unley Gourmet Gala Facebook event and City of Unley Events Facebook.