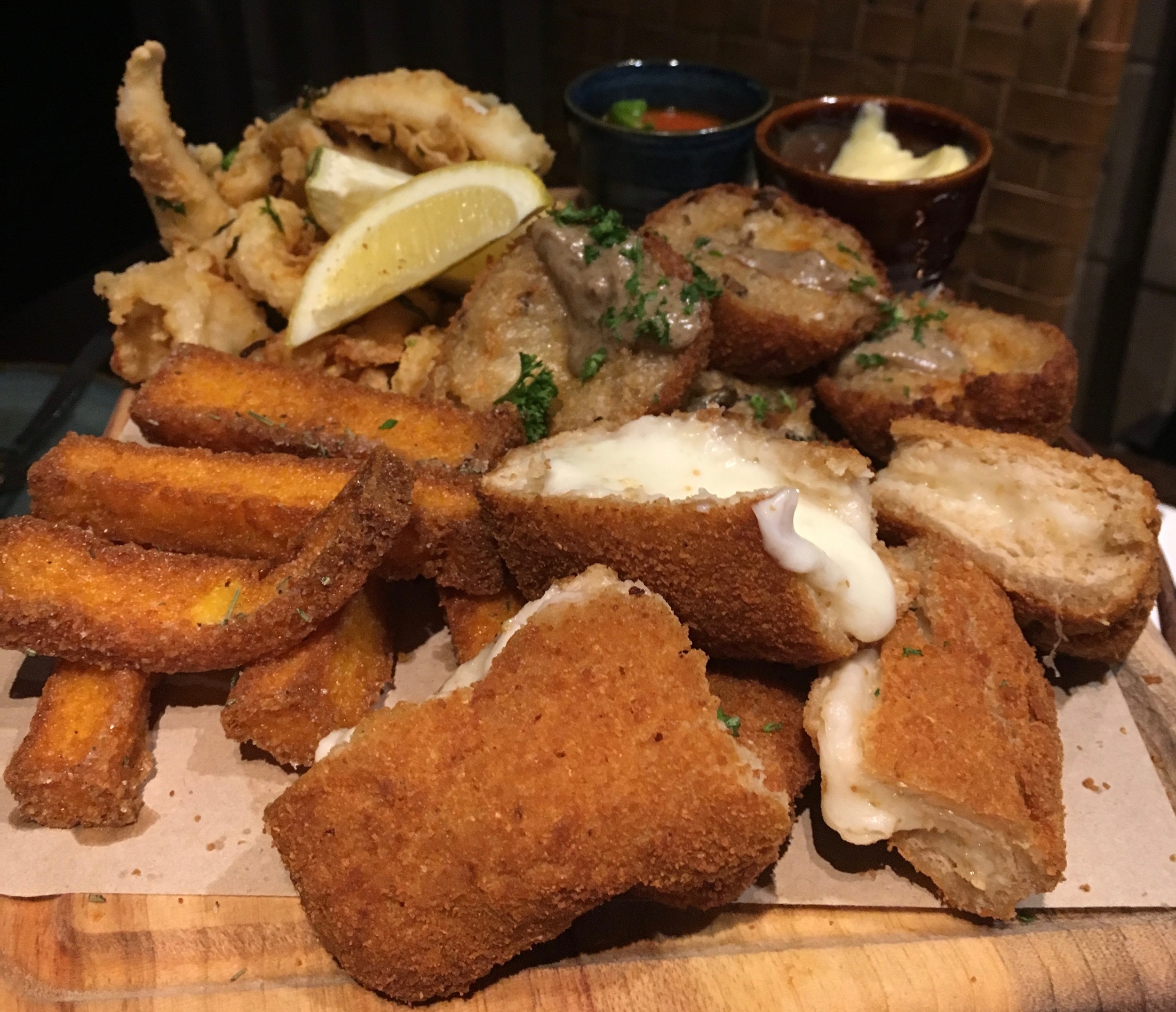 Italian Stallions of the east, Antica Pizzeria E Cucina, opened the doors to their new restaurant in the CBD last week. Having launched their flagship store in Hyde Park 2 years ago and gaining a cult following for their infamous 1m pizzas, it's no surprise that owner Anthony Crea had his sights set on the city for his next location.
To mark the occasion we were invited to a sit down lunch showcasing the finest rustic Italian cuisine Antica had to offer. Greeted by mystery packages (later found to contain all manner of delicatessen treats), we grazed through a sampling of the expansive menu.
As is customary, the meal started with a solid helping of meat and cheese, aka Salumi Misti. This typical antipasto dish showcased how quality Italian small goods never need to be overcomplicated. Prosciutto foam, get out of here. Provolone chips, no thanks. Give me some sopressa and fresh ciabatta any day.
Then came the selection of fried wonders. Aranci, polenta chips, mozzarella in carrozza. Yeah that's right, fried crumbled mozzarella sandwiches. Take that Masterchef. Continuing our antipasti journey, bowls of polpo al sugo (octopus in tomato sauce) appeared and then very quickly disappeared before our eyes.
By now we were all getting pretty full but like any proper Italian feast, things had barely begun. It was time for the pasta course. At first glance it seemed like there was more pasta than there were people. On closer inspection this was confirmed. The fettucini porcini e tartufo was so umami it's very possible it was the reason behind creating a word for this fifth taste. The gnocchi quattro fromaggio was pillowy and melted in the mouth, just like Nonna intended. A quick glance through the giant windows leading to the kitchen revealed why; the chefs making fresh pasta for dinner service as we ate.
The last savoury dishes to arrive were a selection of Antica's signature wood oven pizzas; traditional, Napolitano style with thin bases, crispy crusts and modest amounts of toppings. Careful attention to detail like the use of San Marzano tomatoes and fiore di latte cheese further emphasised Antica's heritage and the love they show towards food. The standout was the boscaiola, proof again that mushroom makes everything better.
For the finale: a one metre long Tiramisu. I don't know if that's some kind of record but it was definitely the most impressive dessert I've ever seen. Thankfully, it wasn't just for show. If I'd been served just the mascarpone meringue, I gladly would have eaten bowl after bowl.
Antica Cucina E Pizzeria is located at 226 Morphett Street and is open Tuesday – Saturday from 11:30am until late.