Assaggio Ristorante isn't your ordinary fine dining restaurant. In light of their 10th birthday celebrations, they have revamped their full menu, interior design, and concepts on Italian cuisine. The Assaggio family have had a very busy and challenging last few months preparing the space and menu to resurrect one of Adelaide's finest restaurants and bring it new life, and boy did they deliver.
Structurally it hasn't changed too much, but for those who have seen the restaurant before its makeover- the replacement of the red cushions on the wall to the new wooden slats, and introduction of a warm brown theme has given the place a welcoming yet modern atmosphere. The staff are still as darling as ever, with an extra care in fine detail and aiming to give the customer as elegant of an experience as possible.
With the glamorous and varied wine list, Assaggio Ristorante now suggest pairing wines with each entreé, main course and dessert on the menu - aaaand I'll take one of everything! The main hype that surrounds Assaggio Ristorante's re-launch is of course the food, and for a good reason! The new and (highly) improved menu is the work of Assaggio chefs, partners and influential head chef Nick Tadija.
Returning from his travels around Europe and Italy in particular, the 27-year-old born and raised South Aussie brought back his concept of fresh, local and seasonal produce. Nick says "Italian food for me is very simple, fresh and produce-driven, it's vibrant, homemade and local. We have amazing produce here in South Australia, and we always forage for herbs in the Adelaide Hills, buy produce from our local farmers markets on Sundays, and experience where the food comes from".
The Assaggio Ristorante standards have been raised, with small changes in the menu every few months to keep seasonal produce at its peak. Nick says "a strawberry in Winter is not going to be anything like it is in Summer". They have their own small garden where they pick fresh herbs during service like basil, dill, and thyme, as well as curing their own meats like kangaroo, pork and pancetta on site.
So if you absolutely adore the experience of fresh, quality and delicious food, here's a sneak peak of what's on offer at the new Assaggio Ristorante:
Entreé:
Gnocchi Freschi; Housemade gnocchi, carrot puree, Onkaparinga goats curd, toasted walnut, pea tendrils & walnut oil.
An entreé option on the lunch menu, but can be ordered as a main on the menu too, this gnocchi is one you cannot pass up. The crispy outside yet melts in your mouth gnocchi will have you saying Mamma Mia! The balance of flavour is brilliant, with the smooth carrot puree, crunchy walnuts and salty goats curd. For lovers of fantastically executed pasta, you won't be disappointed.
 
Calamari Fritti; Lightly fried calamari, charred baby gem lettuce, squid ink aioli & pickled lemon.
Plate hits the table, and the smell of the ocean arrives. This is how calamari should be served; salty, crunchy, tender and fresh. Aioli is basically a Godsend in itself, but served squid inked and accompanying the dish, it fits beautifully. The crisp lettuce provides a clean and gentle balance to finish the dish.
 
Gnocchi Romano; Baked semolina gnocchi romano, heirloom cherry tomato, buffalo mozzarella, tomato sugo, fresh basil & extra virgin olive oil.
Not your traditional little gnocchi's but delicious nonetheless! This baked gnocchi is smooth and velvety, with a fantastic contrast of fresh cherry tomatoes and mozzarella that'll make your inner Nonna sing. Simple and staple Italian ingredients done right is all you need for a happy life, solid 10/10.
 
Giadiniere; pickled vegetables.
A sea of vibrant colours, contrasting textures and the freshest of ingredients, this dish puts an elegant and delectable spin on your regular salad. A mix of radish, beets, carrots, micro cabbage and onions is a colourful flavour palette fit for a king, with beetroot purée and goats cheese accentuating and completing the dish.
 
Main Course:
Pancetta Di Maiale; 200gm slow cooked Loukoumi pork belly, cauliflower purée, cabbage leaves & spiced pear.
This little piggy couldn't wait to try this dish, and needless to say it didn't disappoint. Tender meat and crispy crackling, this precisely portion sized meal was a treat, with a light cauliflower purée, crunchy cabbage and fresh spiced pear, the execution was outstanding. Overall the dish was well balanced, not over powering but enough to fill up the Fat Controller. Stick a fork in me, I'm done!
 
Pollo; Free range Greenslades chicken breast, chargrilled thigh, semolina cream, pancetta, whole grain mustard & lemon thyme leaves.
The most succulent of chicken, this dish exudes quality produce and flavoursome accompaniments. Almost like a deconstructed 'wrapped chicken' dish, the velvety texture of semolina cream, crisp and salty pancetta and original mustard combination beats any chicken meal you'll have in a while.
 
Pesce; 180gm barramundi fillet, fregola, beetroot, radicchio & mint salad with a blood orange & merlot vinegar.
A purple palette to please the people; delectable and soft barramundi paired with the freshness of beetroot, beady consistency of fregola pasta and distinct radicchio. The flavour combination is other worldly with a fine, tangy after taste that leaves your tastebuds pondering for more. The fish dish that's irresistible and impeccably implemented.
 
Risotto con Piselli; Spring pea risotto, heirloom radish, fresh ricotta & wild herbs.
Al dente risotto enriched in a creamy pea sauce, this is simple done well. The fresh radish and wild herbs develop the flavour of the risotto, presenting new combinations to the palette while staying addictive.
Dessert:
Cioccolata; Goodiesons Brewery brown ale chocolate cake, muscatel, salted caramel & Lake Alexandrina creme fraiche.
Looks can be deceiving; this cake may look richer than Oprah but its lighter than air. The warm dark chocolate cake combined with cool creme fraiche and sticky muscatel will knock your socks off! Throw in the salted caramel sauce and you've got yourself a chocolate lovers dream come true. Fantastic to share... if you can.
 
Semi Freddo; Espresso semifreddo, hazelnut praline, Patron XO Café fudge & hazelnut biscotti.
Smoother than MJ's moon walk, this semifreddo is a haven of variety. From the crunchy praline texture, addictive fudge in the centre, and grainy biscotti underneath, you'll be dreaming about this dessert for a few days. Espresso and hazelnut combo executed perfectly.
 
Panna Cotta; Vanilla galliano panna cotta, fresh strawberry, toasted oat & almond, mint.
Twist off the lid, and bam! the game-changing classic. Here's a dessert that'll satisfy all your senses; from the vibrant colours, to the distinct scent of berries and mint, the crunch of oat clusters, and taste of silky smooth panna cotta. Ticks all the right boxes and more!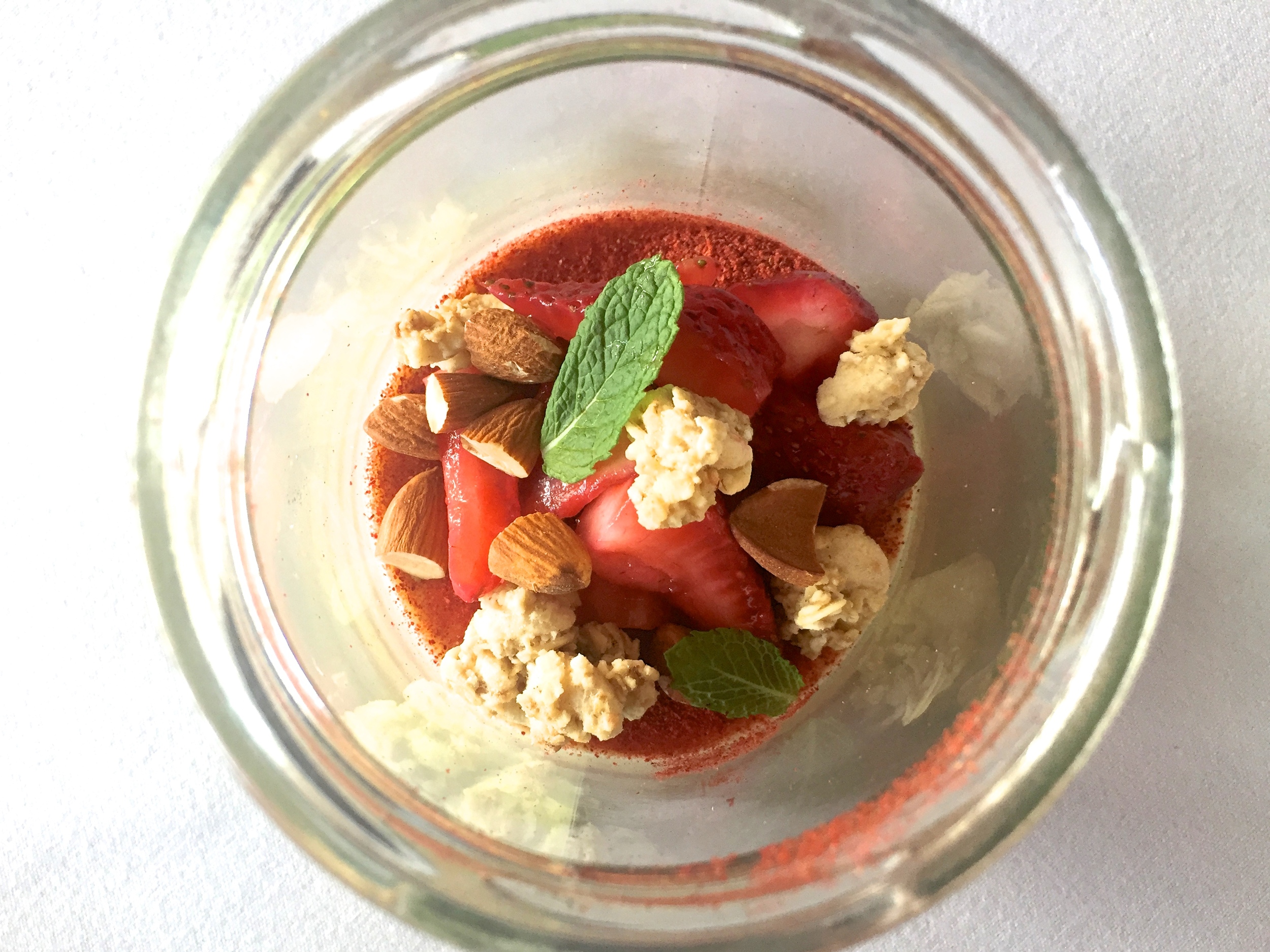 New instalments in the menu include a Lunch Menu, where you can order 2 or 3 courses, with or without wine, at a very reasonable price, as well as a 5 course Tasting Menu. I'm calling Assaggio Ristorante my new favourite fine dining restaurant because you can count on the quality of produce, meals, and service every time without a doubt. The amount of time and effort put into every dish and every ingredient, it's no wonder they have the whole town talking.
Assaggio Ristorante is located at 92-94 King William Road, Hyde Park, open Monday to Friday 12pm to late, and Saturday & Sunday 6pm to late.
View their new full menu on their website, and throw them a like on Facebook and follow on Instagram to keep updated on their produce, dishes, and specials.
All images via Alexia Frangos.